January 13, 2017
Multiple layers of dimension make this beautiful sign a true head-turner!
November 23, 2016
The Windward was undergoing an extensive outdoor facade restoration. As a historic place, the goal was to preserve and restore the original sign letters, utilizing a durable, modern sign material. We carefully hand digitized each of the well worn, 100 year old letters, and recreated them in satin PVC on our CNC router. We carefully […]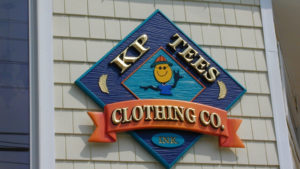 July 31, 2016
Here's a super fun sign we created with wood, HDU, paint and gold leaf. We carved and detail shaped the background, lettering, and raised elements. The prismatic carved lettering received 23k gold leaf, for unmatched beauty and elegance.